Skimo.in offers premier logistics and guide services.
With seasonal bases in Kashmir, Lahaul, and Ladakh, India, we specialize in crafting exceptional skiing, climbing, and trekking expeditions through meticulous local research and engagement.
We also sell top-of-the-line ski and climbing equipement in India
Our sister organisation, a non-profit, Avalanche Himalaya Foundation, is engaged in avalanche safety operations in Indian Himalayas.
Ski Touring
Experience ski touring with Skimo.in—an activity involving climbing skins on skis to ascend from lodges or base camps to slopes suitable for skiing down. This unique offering spans remote expedition-style base camps, lodges with gondolas, helicopter-assisted access, and even horse-supported excursions. The Himalayas provide diverse ski touring opportunities at moderate altitudes, ensuring high-quality snow experiences.
Ski Mountaineering
Skimo.in facilitates ski mountaineering adventures across different Himalayan locales, always in expedition style with base camps equipped with sleeping tents and culinary facilities. These trips involve climbing peaks with skis and descending on skis—an exhilarating combination of mountaineering and skiing.
Trekking
Treks come in two styles—teahouse and expedition. Teahouse style involves lodging in local lodges with menu options, while expedition style includes camping in tents, self-cooking, and immersive overnight stays. Skimo.in crafts itineraries that not only involve trekking but also encompass cultural interactions, sightseeing, photography, peak hikes, and exceptional gastronomic experiences.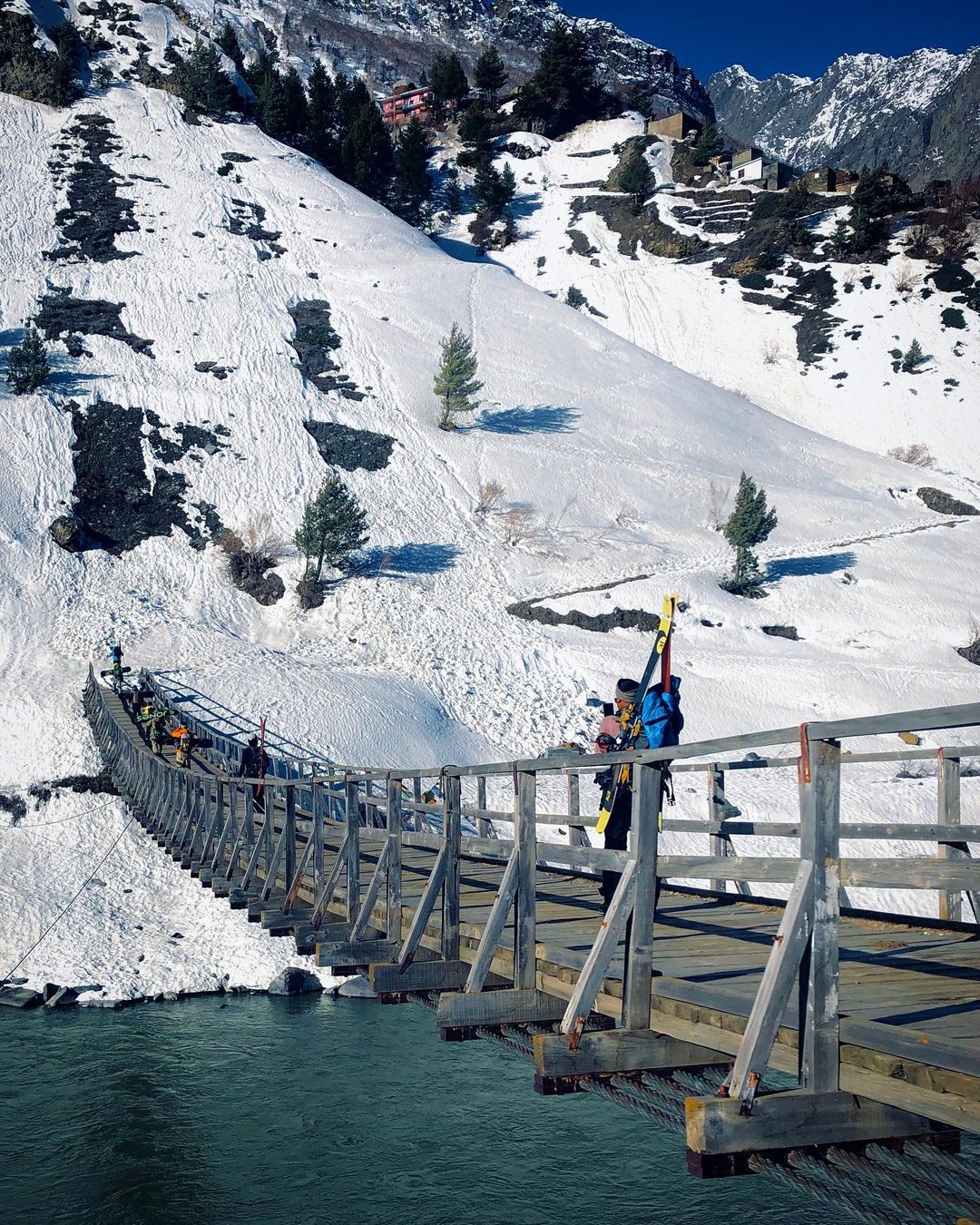 Bespoke Trips
Craft your dream expedition with Skimo.in's bespoke services—tailored trips created around your interests, objectives, or group dynamics. Whether you have a concept, a group, or a specific goal in mind for the Himalayas, Skimo.in welcomes you to share your ideas for a personalized journey.

People
Cindy

From Manali.

Grew up in the Himalayas, she ventured out to become India's first expat snowboard instructor working across the planet.
With experience of teaching in Japan, British Columbia, New Zealand, and Australia.

Sunil

Made in Lahaul, Built for Lahaul.

Seasoned mountaineer, skier and ice climber with almost two decades of experience in the industry.

He has guided on many notable summits in Lahaul, Uttarakhand and Ladakh.


Anees

Native of Babe Reshi, Kashmir.

Captain Cool aka Anees has been working as a split-board and ski guide in Gulmarg for the better part of last decade.

He has flair for finding the best lines and knowing when and where snow is gonna be dank for riding.

Julienne

Half Indian, grown up in Norway.


Experienced backcountry snowboarder and skier since the age of 3.
Internationally certified wilderness medic and mountain guide working across the planet.
Fluent in English, Norwegian, German, Spanish and French.
Loves snow and mountains above everything.

Dhruv

Founder

Passionate about powder skiing. Skiing for over 80 days every year in Indian Himalayas across Kashmir, Ladakh and Himachal.