Regular price
Rs. 7,500.00
Regular price
Sale price
Rs. 7,500.00
Unit price
per
Sale
Sold out
View full details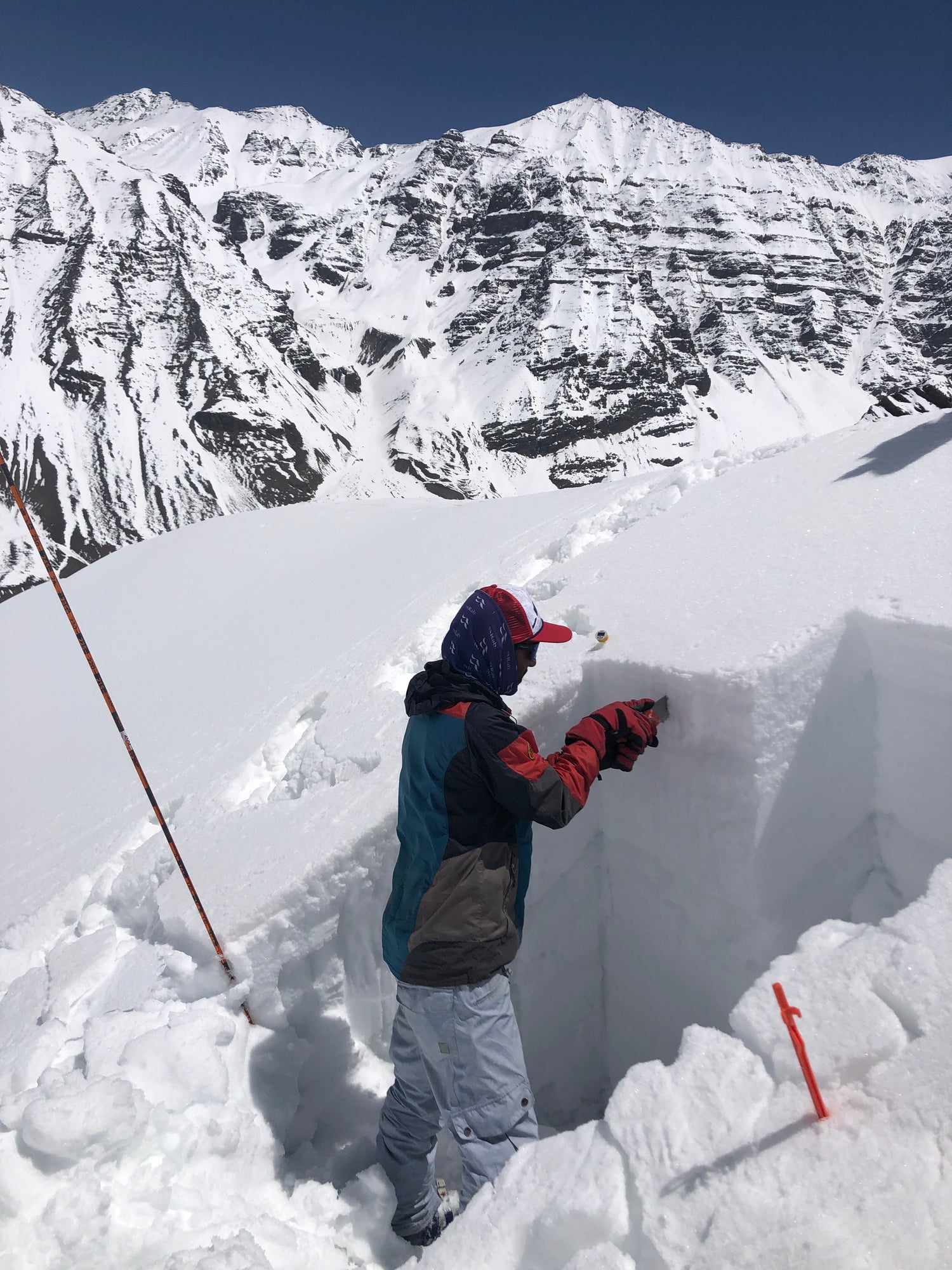 After finishing ABC-1 and learning lots about staying safe in the wild, it's time to level up. Learn how to make smart choices in avalanche-prone places. Identifying snowpack weaknesses and testing for instability.
ABC-2 builds upon what you learned in ABC-1 and provides a more advanced way to handle avalanche zones. It involves about 9.5 hours of learning indoors and three days outdoors to put things into action. Our aim is to help you build a solid mental framework for smart choices and leadership.
In this avalanche course, you'll learn:
Snow Profiling : Evaluate snow layers' stability, structure, and identify weaknesses through digging pits.
Snow Pact Testing: Probe snow layers with tests like Compression, Extended Column Test, learn structural assessment.
Advanced Companion Rescue: Multiple Victim Burial Search
Terrain identification, selection and risk management.
A deeper theoretical understanding of avalanche terrain and snowpack.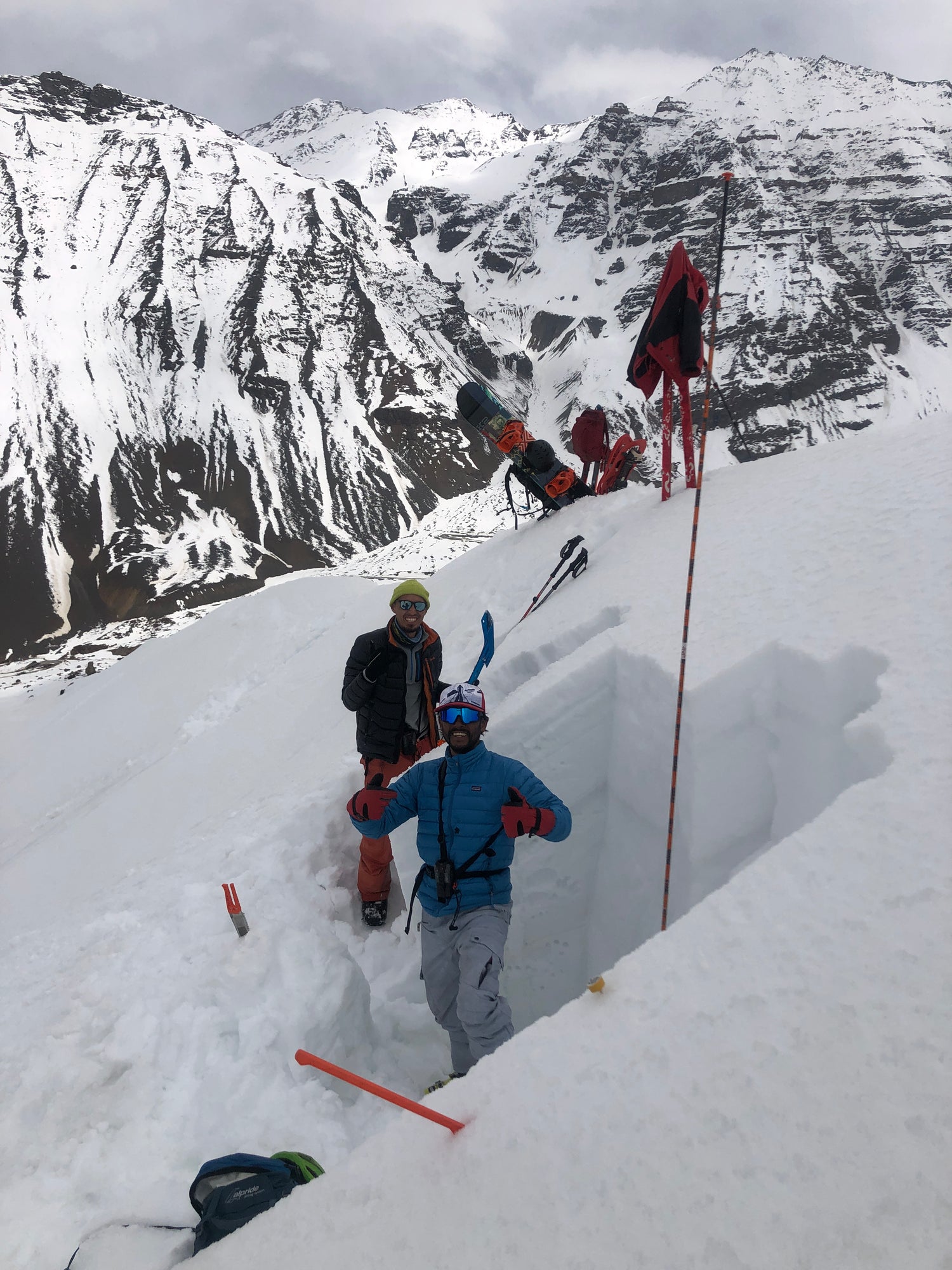 Limited to 4-6 participants per instructor,
3 full days outdoors,
Led by a CAA Certified Instructor
focusing on big mountain application.
Itinerary
Pre-trip

Prior self-study required (~2-4 hrs online).



Day 1 // 7AM-12PM

Comprehensive companion avalanche rescue practice, rest of the day spent building off ABC-1 curriculum

Equipment that you need to have
SKIERS
- Optimal skis: wide with touring or telemark bindings (at least 110 mm underfoot)
- Climbing skins

SNOWBOARDERS
- Splitboard with skins (Limited rental splitboards available)
- Collapsible poles

Note: Snowshoes available for groups of 4. However, we can't pair snowshoers with splitboarders/skiers due to touring differences.

ALL PARTICIPANTS
- 20-35L pack with ski/snowboard carrying capabilities (Airbag packs recommended)
- Avalanche transceiver
- Shovel
- Probe

A detailed equipment list will follow upon confirmed booking. Apply via our Expression of Interest form.
Instructor - Dhruv Sharma
Co-Founder of Avalanche Himalaya and Project Manager.

Certified: Avalanche Operations - I [Canadian Avalanche Association, British Columbia]
Duty Forecaster: Gulmarg Ski Patrol (2022- )
Avalanche Forecaster for Project Deepak - Baralacha La Pass (Border Road Organisation)
Experienced in Training civilians and Indian Army - Border Roads Organisation members.
FAQs
What's included?

2 days of learning. Groups are small with a certified ACMG guide. Two FULL days in the field.
What's not included

Transportation, all food and accomodation
I have never backcountry toured before, is this for me?

YES! If this is the first time you are seeking avalanche or backcountry training. You need to get the ABC -1 certificate first.
Is there any risk to taking this course?

Y-E-S. There is inherent risk in the activities we are partaking in. We are exposed to a remote and uncontrolled environment. It is vital to us that you understand what you are getting yourselves into. We use a waiver for you to understand these risks, use this document as a way to communicate to us that you understand. Expect to see a copy upon booking. We will have a fresh waiver for you to sign the first day. Do not hesitate to contact us with any questions : AvalancheHimalaya@gmail.com
I don't have my own avalanche gear

You will have to rent or borrow from a friend. The whole idea is that we will educate you on the gear you have and use.
We can help you out with that!
Do you do custom trips/dates?

For the most part YES! We believe it's important to be on the same page as a touring group. We actually prefer group bookings. We are limited by instructor availability. The sooner we put a trip together the better.
Are snowboarders accepted?

Come-on, of course you are…encouraged even. Each trip we have a number of splitboarders. Make sure you have any extra bolts or parts specific for your set up.
Cancellations / refunds

We understand you've had something big come up (changed your millennial mind, you got bad frostbite, your loved one is making you go to your cousin's wedding) but we've saved you a spot. We can't just give you your money back. Here are your options // 1) Buy cancelation insurance, this makes it easy for everyone // 2) Excluding your non-refundable deposit, any amounts paid can be refunded or applied as credit at your discretion if you are making the cancelation 60 days or more in advance of the 1st day of the trip. // 3) If you are unable to attend a trip and notify us 14 days or less prior to the start of the trip, we have the right to keep full payment. 4)If you are unable to attend a trip and are able to fill with a substitute to fill your space, DO THAT!!
Certification duration, expiration date.

An AST certificate lasts indefinitely, but we suggest refreshing your learning annually or every 2-3 years. Learning about avalanches is ongoing. As you explore the backcountry, keep learning for safer adventures.

For AST 1 graduates:
- Review your AST Handbook and try Avy Savvy online tutorial each winter.
- Join Companion Rescue Skills or Managing Avalanche Terrain one-day courses.
- Watch webinars from experts.
- If your skills feel rusty, retake AST 1.

For AST 2 graduates:
- Revisit manuals, watch webinars, and use online resources.
- Re-do AST 2 with friends for tailored learning.
- Group up for the Companion Rescue Skills course. Learning together is better.
Do I need an ABC-1 certificate before doing ABC-2?

Sort of. If you have acquired prior learning through work or experience, you can request us for a waiver of the AST-1 (ABC -1) prerequisite to undertake ABC-2.