10 full days dedicated to skiing
Small client-to-guide ratio
10 nights at a stylish Hotel close to the lifts
Comprehensive avalanche awareness and backcountry skills training
Explore 2000 vertical meters of incredible terrain and exceptional powder
Embrace a new culture and cuisine
Our approach sets us apart from the common crowded guided skiing scene in Gulmarg. We prioritize a personalized skiing experience, where your abilities, interests, and backgrounds are taken into account. This means you won't find yourself in large, impersonal groups. Instead, our ski guides are dedicated to making each day tailored to your preferences, ensuring a memorable and unique skiing adventure.


View full details
Gulmarg is a stunning village on the edge of the Kashmir valley in the Pir Panjal range of the Himalayas.
The installation of the "World's Highest Gondola" in 2005 and a skiable vertical of 2000 meters with expansive alpine bowls and incredible tree skiing.

The gondola ascends in two stages from the village to 4000 meters elevation.
Explore the main bowls, hike to the summit, or venture to remote mountain villages from the ridge.

With breathtaking views, excellent powder, a distinct cultural encounter, this destination stands among the world's finest for skiing and snowboarding.
Resting on a mountain plateau. The tabletop-shaped Mt Apharwat boasts a 5-kilometer-long crest with slopes and valleys cascading toward the resort.

The gondola's initial stage transports you from the village to the 3000-meter tree line, granting access to well-protected tree skiing.
The second stage ascends to 3960 meters, just shy of Mt Apharwat's peak. From the summit station, one can venture into the gondola bowl or traverse in various directions for a 1000-meter vertical descent to the mid-station. A brief 20-30 minute hike to the summit unveils the mountain's northern expanse, providing a splendid array of routes. Along the main ridgeline, you can navigate a breathtaking 2000 vertical meters through remarkable terrain.

Characterized as lift-accessed backcountry, it involves minimal grooming and can be weather-dependent. While avalanche control and ski patrol are present in the main gondola bowl, they cover just a fraction of daily ridden terrain.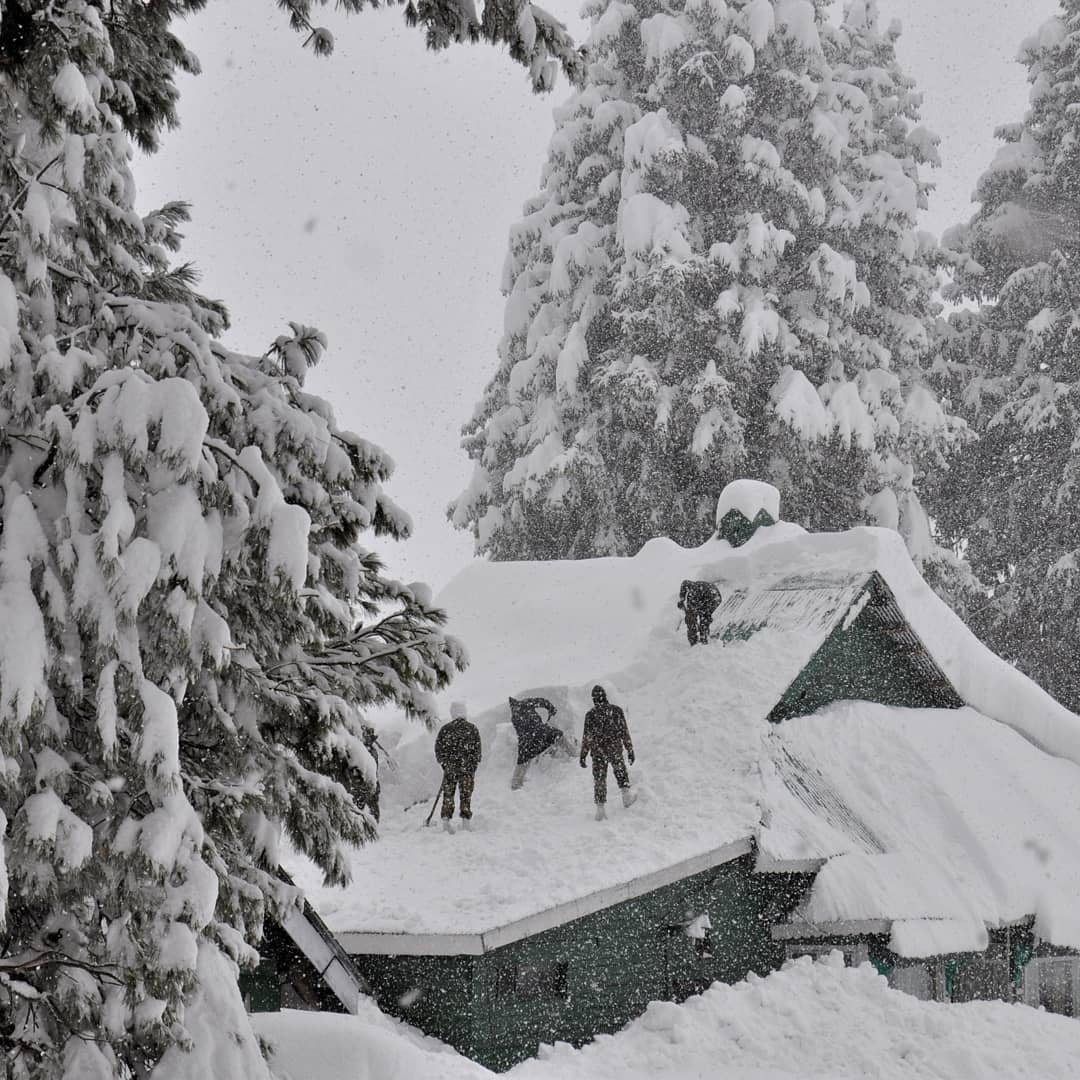 When snow descends upon Gulmarg, it arrives in abundance. Storms often blanket the village with a meter of snow over a couple of days, while higher elevations receive even more. The typical winter weather pattern includes intense storms followed by prolonged periods of calm, stable weather with mild temperatures and gentle winds.

Gulmarg offers two remarkable skiing experiences: the enchanting tree runs and the expansive alpine terrain. Amidst storms, the mid station tree skiing and descents to outlying villages offer world-class opportunities, with the deepest and driest snow among the ancient pines. Once storms clear and avalanche conditions stabilize, attention turns to the vast alpine bowls above the mid station, ideal for exhilarating, speedy turns.

With 10 days on the snow, you significantly increase your chances of encountering these epic skiing conditions. Patience is key—great rewards await those who wait.
GULMARG ITINERARY
DAY 1
Upon arriving at Srinagar airport in the early afternoon, you'll be greeted by Dhruv or a member of his team for a private two-hour transfer to your accommodation in Gulmarg, where you'll spend the next 10 nights.
Before a welcome banquet, Dhruv and your guides will provide an introduction to Gulmarg, offering a resort orientation and an overview of the upcoming trip.

DAY 2-11
Embark on twelve full days of guided off-piste adventure skiing and snowboarding, with a maximum client to guide ratio of 4 to 2.
Each morning, the guides will assess snow and weather conditions to present the best options during breakfast.
You can choose to explore the resort, venture from the top station, or descend from the plateau to the valley floor. With ample guides, the group can split to cater to everyone's daily goals, ensuring untracked, excellent snow is accessible nearby.
Backcountry equipment use and safe travel practices will be taught during mountain exploration. T
Those interested can receive additional avalanche awareness and rescue training.

DAY 11
When you've wrapped up your day's activities, a vehicle will be ready to transport you to your floating accommodation on Dal Lake for the next two nights.

DAY 12
Experience Srinagar city through a sightseeing and shopping tour. Conclude the day with a serene shikara cruise around Dal Lake and a delightful meal on the houseboat.

DAY 13
Listen to the "call to prayer" one last time, relax on the houseboat, or enjoy another shikara ride before departing late morning to catch your flight.


---
Depending on bookings, you might extend your stay at your Gulmarg accommodation for an extra night or two if snow conditions are exceptional.

If your schedule and budget permit, extensions of a week or more could be arranged prior to your trip's commencement.
In case you're pressed for time, we can tailor a more concise itinerary for you.
Feel welcome to have a conversation with us about it.
Equipment that you need to have
SKIERS
- Optimal skis: wide with touring or telemark bindings (at least 110 mm underfoot)
- Climbing skins

SNOWBOARDERS
- Splitboard with skins (Limited rental splitboards available)
- Collapsible poles

Note: Snowshoes available for groups of 4. However, we can't pair snowshoers with splitboarders/skiers due to touring differences.

ALL PARTICIPANTS
- 20-35L pack with ski/snowboard carrying capabilities (Airbag packs recommended)
- Avalanche transceiver
- Shovel
- Probe

A detailed equipment list will follow upon confirmed booking. Apply via our Expression of Interest form.
FREQUENTLY ASKED QUESTIONS
Travel Info
Where is Gulmarg

It's in northern India, 60 km from Srinagar.
How do I get there

Most visitors fly to Srinagar and then take a 1.5 to 2-hour drive to Gulmarg.
Do I need a Visa

Yes, most foreigners need a Tourist Visa to visit India.
What about travel insurance?

Choose an insurer that covers off-piste skiing and snowboarding.
Preperation
When is the best time to visit

Late January to late February for good snow cover. Mid-March has great alpine snow.
How experienced do I need to be

You should be comfortable off-piste in varying conditions. We can organize lessons for members who want to enhance their skills.

How fit do I need to be

Above average fitness is needed for the high elevation and vertical runs.
Are there groomed runs

Barely anything is groomed; most skiing is off-piste.
Snow and Weather
How much snow does Gulmarg get

Around 3-8 meters annually, mainly from December to March. It can vary each year.
What is the snow like

Quality varies, but good untracked snow is available.
Are there many avalanches

Avalanches can happen after storms, but conditions usually stabilize quickly.
How cold is it?

Temperatures range from -5 to -10 degrees Celsius.
Medical and Safety
Are there medical facilities in Gulmarg

Basic medical facilities are available, but more complex care may require going to Srinagar or Delhi.
What if I get injured

Guides are equipped for first aid, and evacuation can be arranged if needed.